Product Description
Injection Molding
Cooling Tower
Product Description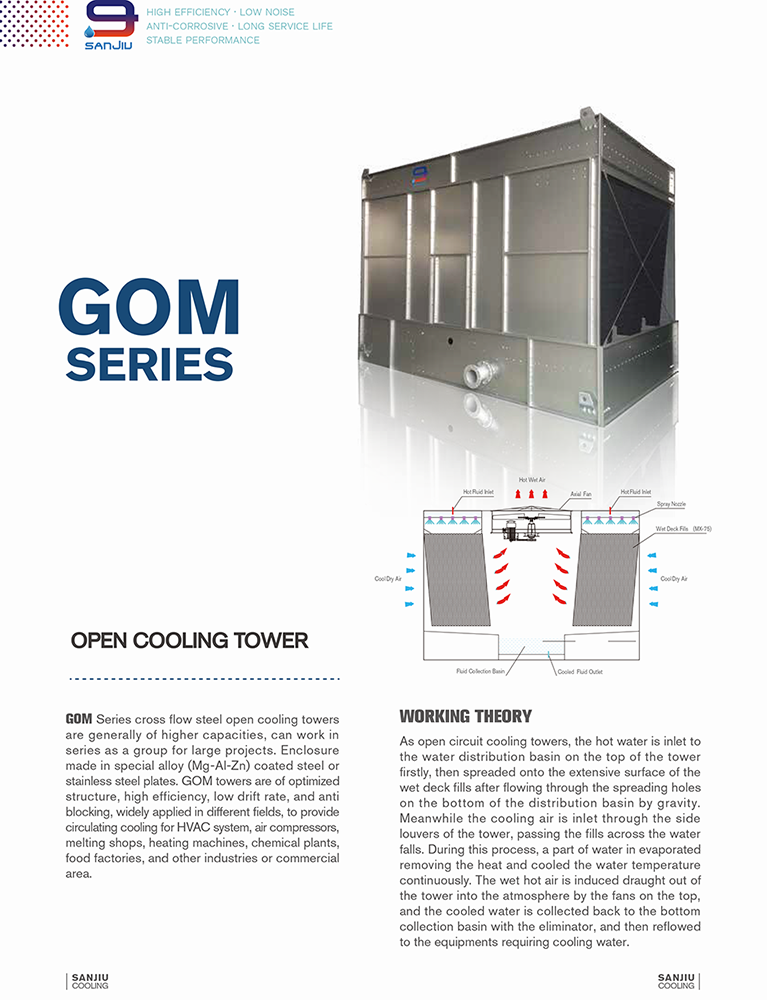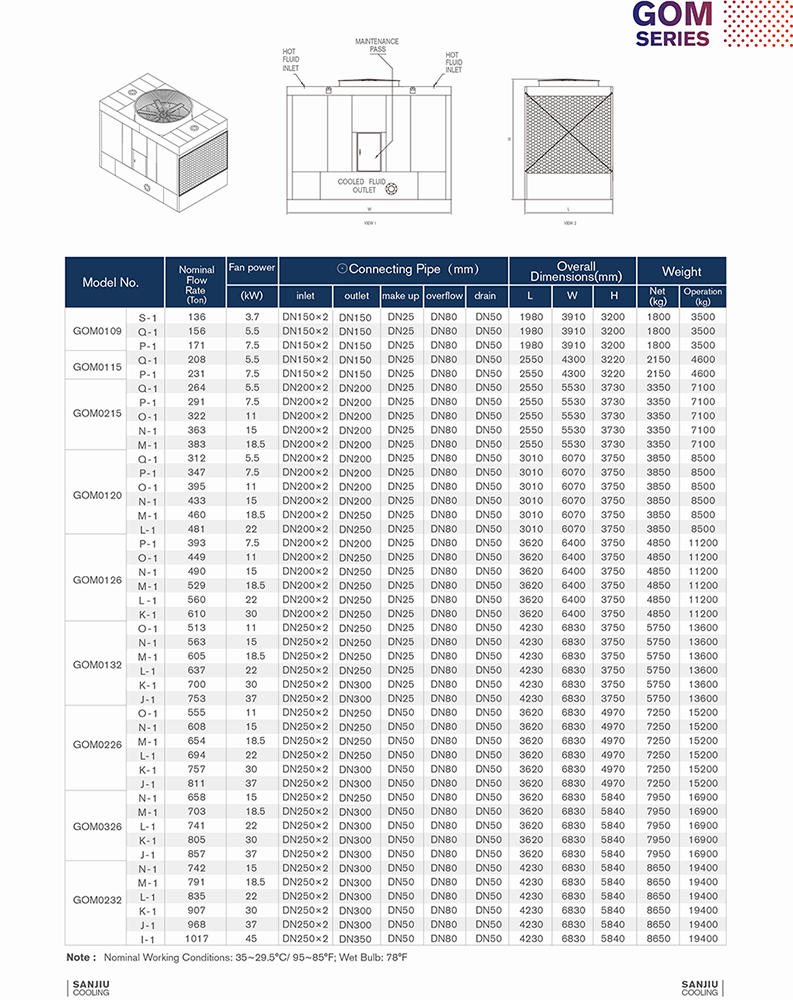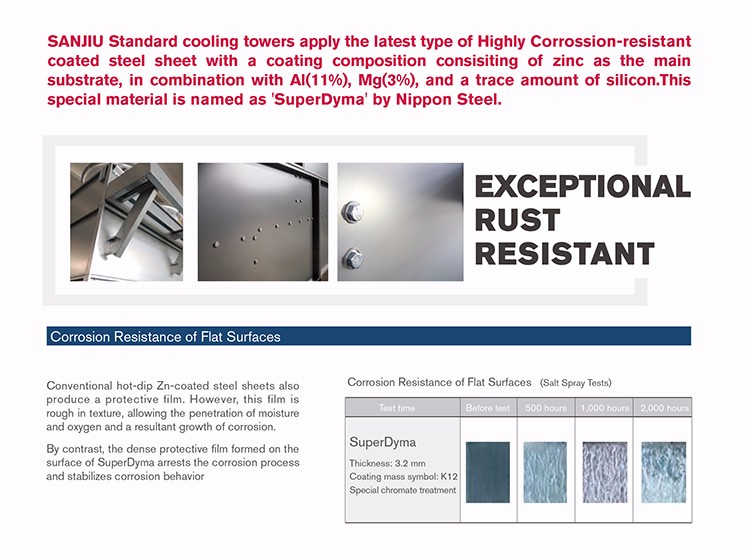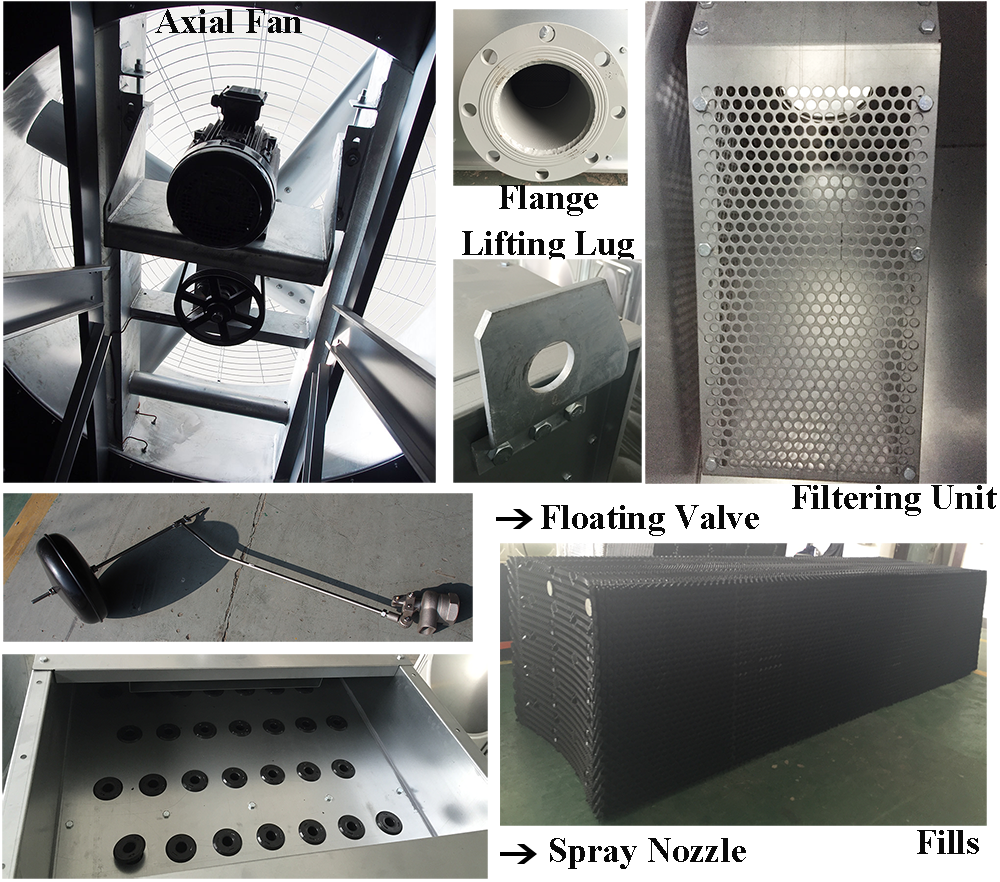 STRUCTURE & CASING
The tower enclosure is made in special alloy (Mg-Al-Zn) coated steel panels, originally imported from Nippon Steel or Posco. These panels exhibit superior corrosion resistance, and self-heal when scratched during the service period. The panels are bolted and sealed for water tightness. The casing is complete with maintenance access doors for internal inspection convenience.
DRIFT ELIMINATORS
The Drift Eliminator is vacuum formed from PVC sheets into a special shape allowing minimum water carry-over, with negligible pressure drop. The eliminator is formed by sections that can be easily handled.
AXIAL FAN SECTION
The axial fans have light weight al-alloy blades perfectly balanced and coupled to a weather proof electric motor. The fan casing is a steel cylinder to draw the air vertically and avoid the risk of recirculation. The tip speed of the impeller is limited to keep the noise level within acceptable limits.
WET DECK FILL
The fill is formed inflame-retardant PVC sheets with a shape specially designed to optimise the turbulence of the counter current fluids. For medium fouled waters we can supply a fill with enlarged grids. All the raw materials are of virgin grade from approved suppliers.
WATER DISTRIBUTIONSYSTEM
The main header(s) - one to three depending on the model - is fabricated in steel and hot dip galvanized. Secondary headers are made in PVC and use non-clogging spray nozzles in special rubber compound or in resin, depending on the model.
WATER BASIN
Water basin is constructed in the same alloy coated steel, for the collection of cooled water, complete with:
   -   water outlet with an easily accessible filter,
   -   drain and overflow connections,
   -   make up water connection complete with float valve,
   -   air inlet and wind protective grids in PP honeycomb, with low pressure drop.
   -   bleed off pipe with regulating valve to prevent salt concentration in water.
FINISH
The standard cooling tower is delivered in alloy coated steel finish without any additional painting, unless other color is ordered as an optional item.   

The primary use of
Cooling Towers
is to remove the heat absorbed in the circulating cooling water system used in power plants, petroleum refineries, petrochemical plants, natural gas processing plants, food processing plants, semi-conductor plants Etc… So Same Cooled Water Can Be Used Again… Which Saves Precious water …The smallest cooling towers are designed to handle water streams of only a few Liters of water per minute supplied in small pipes like those might see in a residence, while the largest cool hundreds of thousands of Liters per minute supplied in pipes as much as 15 feet (about 5 meters) in diameter on a large power plant.
A Cooling Tower is a heat exchange system that removes waste heat from a process system fluid, usually water.Cooling towers are used in both commercial and industrial applications.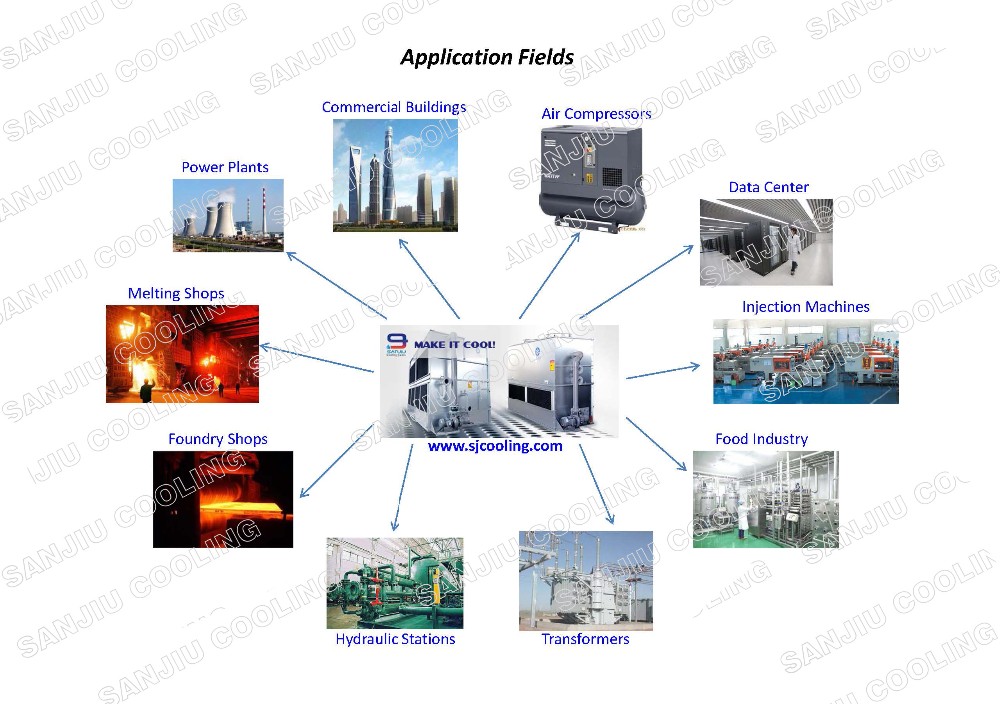 Quality Control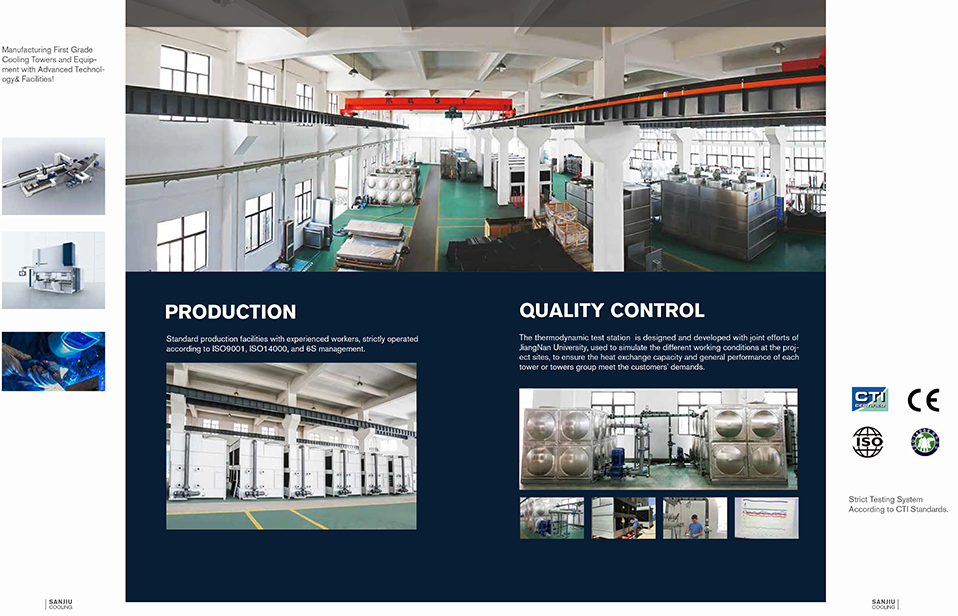 Project Sites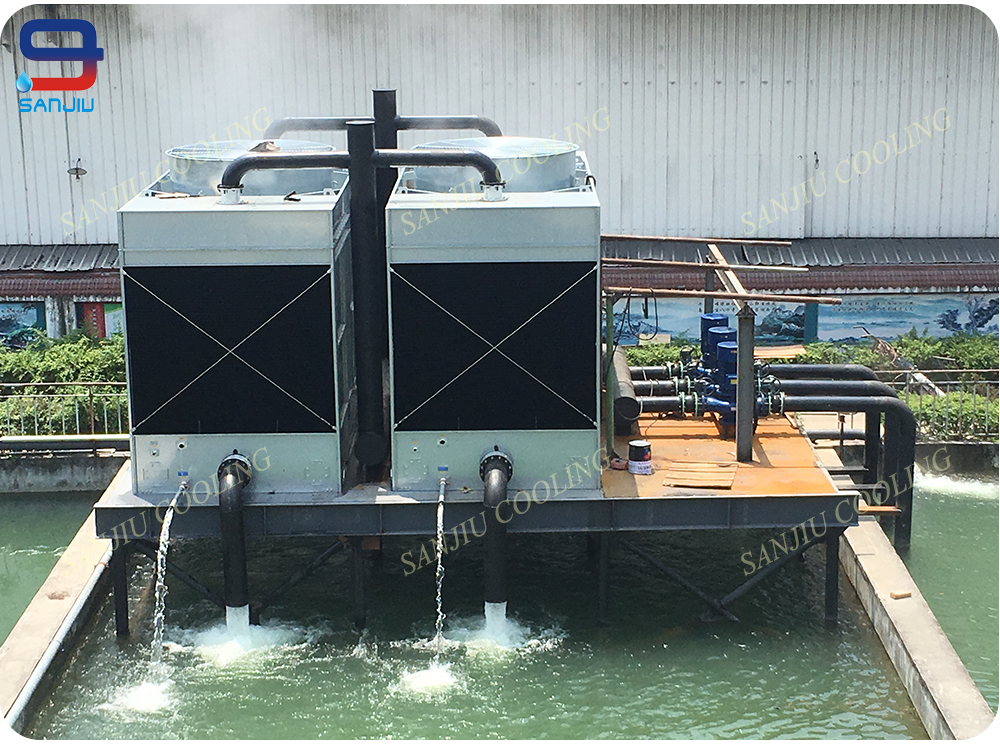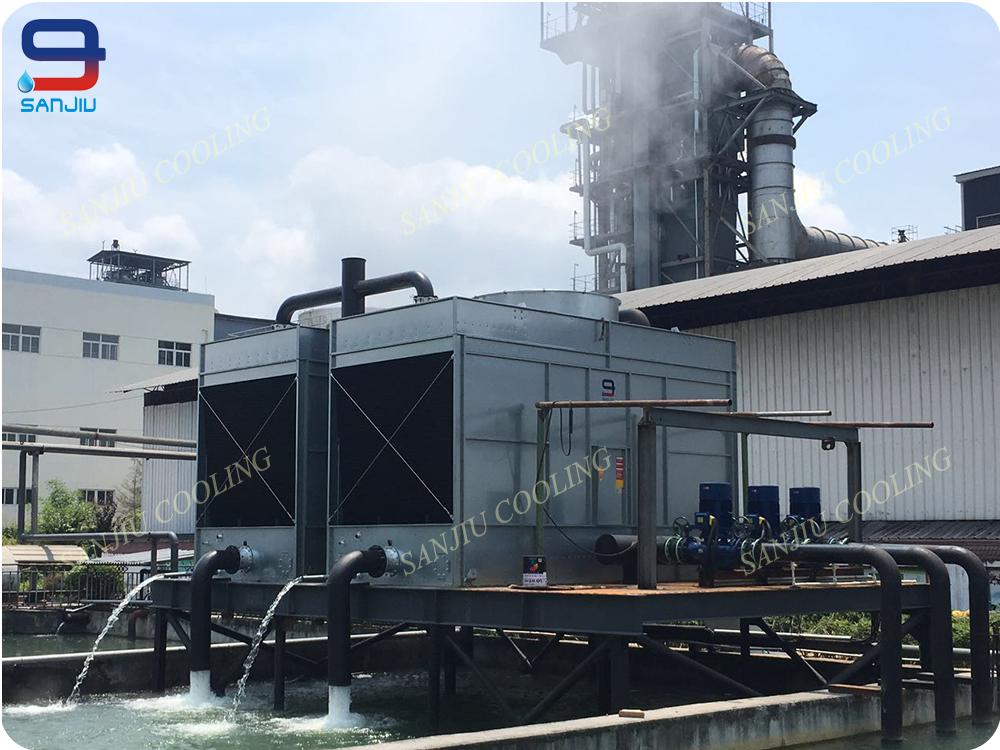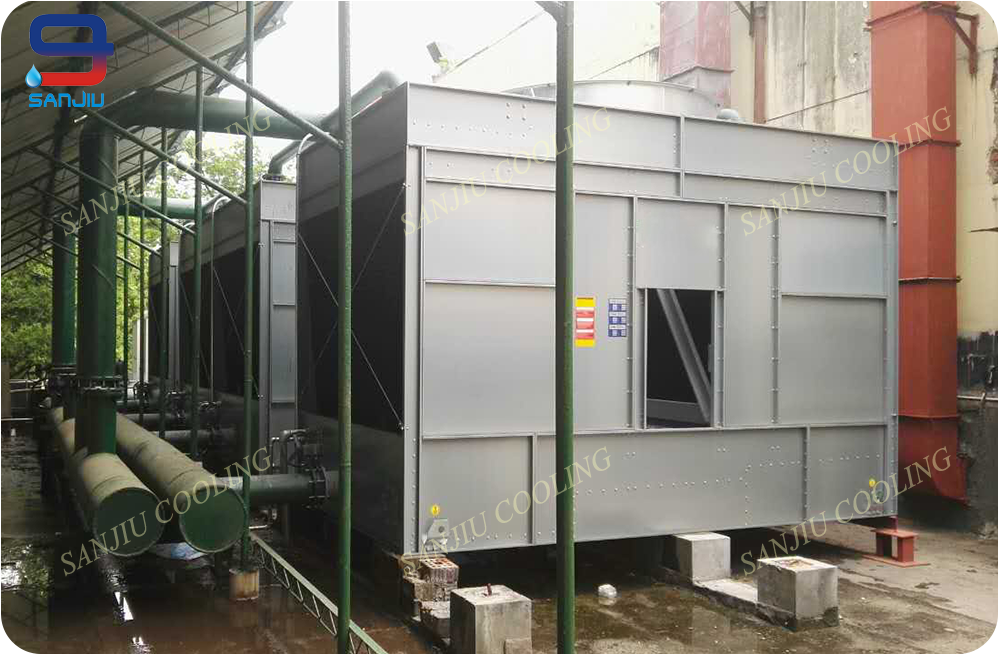 Packaging & Shipping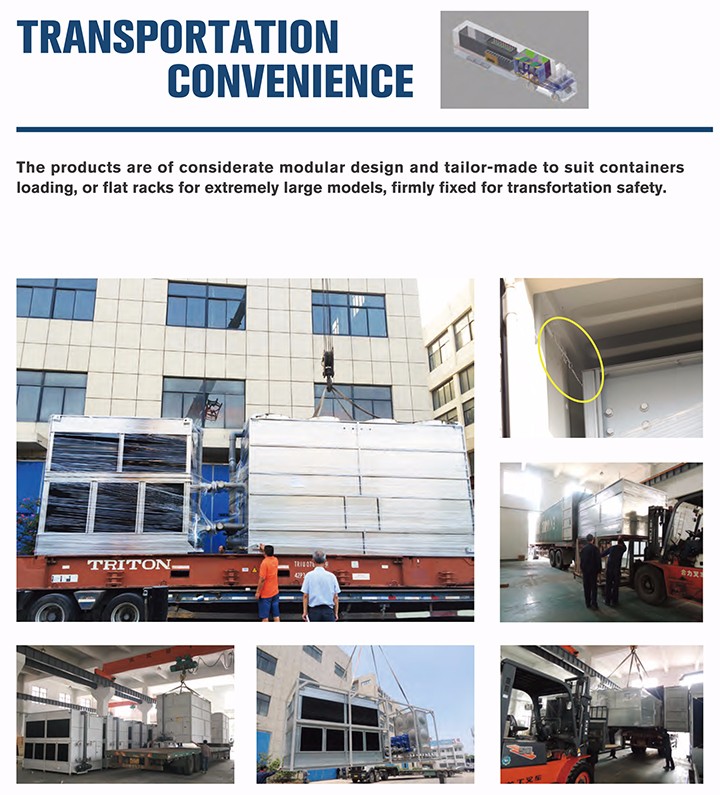 Our Services   -Quick response in 12 hours -Professional and economical cooling solution for every client -Considerate and complete after sales service FAQ  

Below information are normally required to know for selection of a most proper tower model and solution:
Application:

 

 

(Explanations: Where the cooling towers will be used for? e.g. for HAVC system, Air Compressors, Melting Furnaces, etc.)

* Water Flow Rate:

 

m³

/h

(Explanations: How many Tons of water required per hour?)

* Inlet Water Temp.:

 

°C

(Explanations: Temperature of hot water to be cooled)

(also descriped as "water temperature drop")

* Outlet Water Temp.:

 

°C

(Explanations: Temperature of cooled water, usually it shall be at least 3~4 

°C 

higher than the wet-bulb temp.) 

* Ambient Temp.:

 

°C

(Explanations: 

Highest

 wet ambient temp. of the location/area or city to install the tower is essential to know to evaluate the size of towers)

* Power Supply:

 

 

(Explanations: 380V/3 Phases is standard, which we could have in stock, but for customized towers, the delivery time could be longer)
  For easier discussions, 24 hours on line service available: Angela is online: skype: oasanjiu Mob./WhatsApp: 13559666650   Many thanks for your interests, and your inquires are always well attended! Contact us if you need more details on Injection Molding Cooling Tower. We are ready to answer your questions on packaging, logistics, certification or any other aspects about Cooling Tower、Injection Molding Tower. If these products fail to match your need, please contact us and we would like to provide relevant information.
Product Categories : Steel Open Cooling Tower